Home / Winders / Oscillating Winders /
Traverse Winder Model 620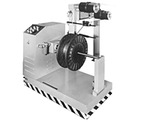 Our Model 620 Traverse Winder to provide economical and consistent winding of ferrous and non-ferrous metal strip or flatware. This versatile winder can be used to wind either spools or cores of narrow width material from 1/4" to 2" in gauges from .003 to .060 inch. The 620 can be used in primary applications using multiples for winding directly from a slitter. The line is "slaved" to your slitter drive, process, or prime mover and automatically synchronizes speed as directed by our exclusive STC (Speed, Tension Control) system.
The 620 can also be used in secondary or single strand down line applications as a rewinder. Some common uses are the joining of pancake coils to form a larger volume traverse wound package or rewinding from such conditioning processes as plating, leveling, and edging. Additionally, the Model 620 has long been utilized as a traversing take-up from punch press or stamping operations. This unit offers numerous tension control options that make it effective for use in both intermittent or continuous output presses.
Specifications
| | |
| --- | --- |
| Drive | Hydraulic (self-contained) |
| Material Thickness | .003 to .060 in |
| Max. Package O.D. | 36 in 253 cm |
| Max. Winding Speed | 600 fpm 1001 Mpm |
| Package Weight cantilevered shaft | 278 lb |
| Package Weight dual support shaft | 2000 lb 277 kg |
| Rewind Tension | 226 g 280 oz 3 to 40 lb |
| Traverse Pitch | Adjustable, from 0-2 in |
Note
Although Ruesch Machine Company offers several standard products, each is infinitely customizable as determined by customer need. Machine specifications are subject to change based on the individual requirements. Ruesch Machine Company provides unique, application specific, solutions.