Home / Tube Equipment /
Model 298 Camless Coiler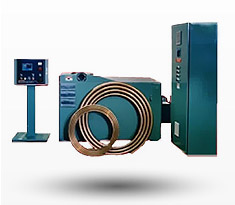 We are proud to introduce a new Computer Operated Camless Coiler. This new coiler provides unmatched flexibility and accuracy through the use of operator-friendly computer controls. Single pancake, multi-layer, and helical coils can be produced. The tubing is fed to the machine manually by an operator. The camless coiler has 3 driven single groove tooling rolls. The bending roll is automatically positioned through the computer controls to accurately develop the variable tube radii when pancake coils are run. The bending roll can also be kept in a fixed position if helical coils are desired. The coiler's computer control will accept variables such as tube ID, OD, and coil dimensions. Finished coils are deposited onto an integrally designed receiving table. Completed coils are then removed by the operator.
Tube size ranges from 7/8" to 2 1/8" diameter. Recoiled pancake dimensions are 16" ID min. to 51 OD max. Recoil lengths up to
100'. Recoiling speed, 0 - 300 fpm.
Specifications
Manually fed tube coiler has the ability to accommodate wide size range.
Note
Although Ruesch Machine Company offers several standard products, each is infinitely customizable as determined by customer need. Machine specifications are subject to change based on the individual requirements. Ruesch Machine Company provides unique, application specific, solutions.