Home / Slitters / Integral Ultra-Light Gauge Slitters /
Integral Ultra-Light Gauge Slitter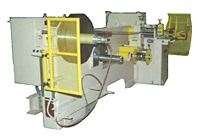 The Model 189 dual rewinding arbor slitter designed specifically to minimize strip camber resulting from fan out. The dual arbors allow the user to alternately wind strips on separate arbors, thus removing the need for fanning strip.
The Model 189 typically is used in taut or loop slit applications where the materials to be slit are too fragile to be slit in a pull Through configuration. However, any combination of drive and strip handling functions can be supplied.
The heavy duty, cast slitter head provides strength and rigidity and incorporates the latest precision bearing design. Maximum shoulder run out is measured in millionths of an inch. A swing away outboard housing is standard. Interchangeable slitting heads are optional as are any number of auxiliary pieces including scrap winders, overarm separators, and many others.
For extremely light gauge, delicate materials the optional Slip-Tech™ core slip winding system can be used to accurately control individual strip tension through out the coil build during rewinding. The versatility of the Model 189 provides for superior results over an extremely large range of materials.
Specifications
| | |
| --- | --- |
| Max. Coil O.D. | 30 in |
| Max. Coil Weight | 1000 lb |
| Max. Coil Width | 12 in |
| Max. Coiler Speed | 3000 fpm |
| Max. Material Thickness | 0.020 in |
| Min. Coil I.D. | 3 in |
| Min. Material Thickness | 0.0005 in |
Note
Although Ruesch Machine Company offers several standard products, each is infinitely customizable as determined by customer need. Machine specifications are subject to change based on the individual requirements. Ruesch Machine Company provides unique, application specific, solutions.