Home / Tube Equipment /
Accu-Cut Cold Saw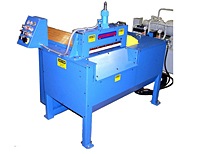 We would like to introduce our new, fully automatic, Model 315 Accu-Cut Cold Saw for tubular and extruded profiles. The Model 315 produces accurate, repeatable, smooth, parallel cuts that are essentially burr free. The saw executes better cuts, which in turn produce product requiring minimal end cleaning while producing an outstanding microfinish surface.
Stability is provided by a heavy duty base table and sub-assembly for solid structural support and superior durability. The table incorporates a user friendly, hydraulically actuated clamp to anchor any number of profiles or sizes to be cut at the same time. The unit utilizes a variable speed hydraulic motor to drive the blade and a hydraulic cylinder with feed valve to feed the blade through the product. A large capacity, wheeled removal bin is provided as standard for collection of chips. (Note: Automatic chip conveying and vacuum exhaust are available as options). Lubrication and cooling are provided by an automatic, elliptical spray mist system. Saw changeover and height adjustment are accessible through interlocked doors and the machine is properly guarded for safety to protect the operator.
As pictured the Model 315 includes an optional, separately floor mounted, hydraulic power unit with a dual pump, pressure relief gauges, reservoir, temperature / level switch, air cooled heat exchanger, filter, and control valves. When purchased with the Model 315, the hydraulic system provides for the operation of all machine functions and constitutes an inclusive, fully independent machine system.
Note
Although Ruesch Machine Company offers several standard products, each is infinitely customizable as determined by customer need. Machine specifications are subject to change based on the individual requirements. Ruesch Machine Company provides unique, application specific, solutions.